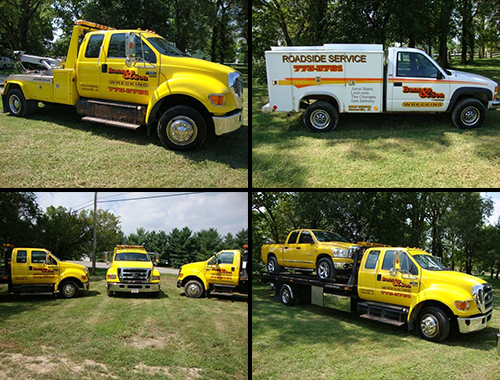 For most car and truck owners, having a fully functioning vehicle is crucial to everyday life. When your car or truck is experiencing difficulties or isn't working at the level that it once did, you can rely on Bannon & Son Wrecking to provide you with quality used parts in Noblesville, IN. An inexpensive alternative to buying brand new parts, we sell parts at a fraction of the cost, but at nearly the same level of quality. Just stop by the store, tell us your vehicle's make, model and year and we'll pull a part from Noblesville, IN right off of our shelves for you. At Bannon & Son Wrecking, we go the extra mile, providing helpful services and products including:
Vehicle Towing and Emergency Roadside Assistance: When you're stuck on the side of the road after experiencing a flat tire or engine trouble, there's no need to fear. We provide fast, reliable emergency roadside assistance to people in Noblesville and the surrounding areas 24 hours a day, seven days a week. Just give us a call, describe your location and one of our experienced flatbed towing professionals will be out to assist you in no time. Car troubles can lead to a great deal of worry, and we're here to alleviate your stress in any way that we can.
Auto Salvage: When it comes to cars and trucks that are unfixable, we have a junkyard in Noblesville, IN that you can trust. Even if an automobile has been deemed totaled, we know that there are always salvageable parts that can be removed, cleaned up and resold. We'll take your damaged vehicle, salvage the useable parts and safely dispose of the rest of the car so that you won't have to.
Used Parts: Looking for used car parts in Noblesville, IN? Bannon & Son Wrecking offers a wide variety of parts that are in excellent working condition, but at a fraction of the cost of brand new parts. On top of our outstanding prices, we make the selection process easy by pulling the parts for you. All you need to do is pick a part in Noblesville, IN: we'll do all the rest.
When a car breaks down, it is often an unexpected, stressful experience. Whether you're in need of vehicle towing, emergency roadside assistance or parts, put your trust in Bannon & Son Wrecking to help you out. Contact us today at 317-773-3761 to find out how we can help you in your time of need.